By now, you've probably guessed that we're huge Fliteheads, and there's a good reason for it. Besides being all the eFoiling upgrades, Fliteboard has the only eFoil board system that allows you to adjust the stability to change how you ride.
It may seem like a gimmick, but the variety of fins can change how you ride and in what conditions. Changing the angle of the fins and stabilizers changes the way the board feels in terms of responsiveness, turning, and overall stability.
There's a fin for every rider no matter the level of experience or what they're feeling like doing that day. At eFoil LA, we've tried all the fins and curated the best ones to enhance your eFoiling experience.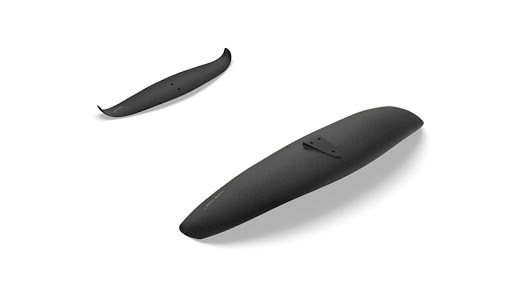 Cruiser Wings
Cruiser wings are great starter wings. This is where you learn to ride that electric foil board if you haven't done it before, and we've all (proudly) been there. These wings are designed for premium stability to get you out of the water and on your way to a pleasant ride.
Additionally, the wingtips are turned downward for your safety if and when you fall into the water so you don't hurt yourself on the more pointed regular wings.
A common wing to start with is the 1100 cm Cruiser Wing, but if you're having trouble, go with the Cruiser XL at 1300 cm long. We love this wing and it gets beginners eFoiling almost instantly.
Everyone should start with a Cruiser Wing on their Fliteboard. The comfort and ride are unmatched for eFoilers trying to find their sea legs.
Flyer Wings
After you've had your fun and got some experience under your belt with the Cruiser Wings, you're ready for the Flyers. Flyer Wings are a great transition to really get you foiling on all sorts of conditions and discovering what you can really do on an electric foil board.
Flyer Wings give a lot more response. When you begin to lean, you start to turn a lot sooner than on a Cruiser. At 800 cm, you'll really notice the difference. Furthermore, less mass means less drag, and you'll be ripping a lot faster than on a Cruiser—hence the "Flyer"—and then onwards and upwards to specialized wings!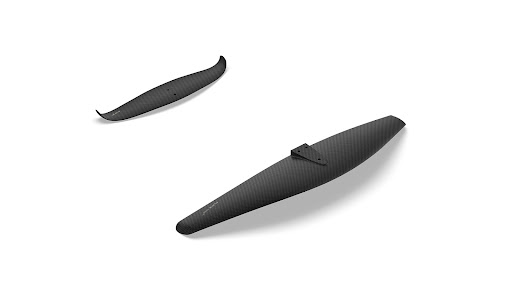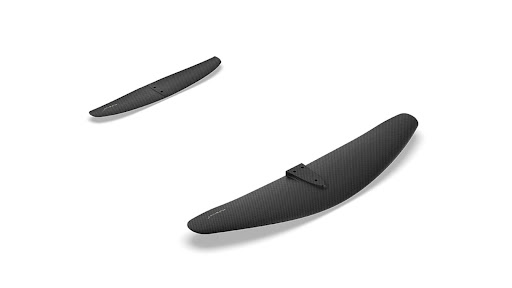 Flow Wings
After you've managed the Cruiser and the Flyer, you start specializing and crafting your ultimate Fliteboard eFoil ride. One of our favorites are the Flow Wings, which come in a variety of sizes. From the 1300 S, 1100 S, and 900 S, these fins appear like manta ray wings to give you a lot of lift.
You'll find that these wings are very, very responsive, especially the 900 S at 900 cm. Flow Wings are great for riding waves. A wing like the 1300 S is going to give you a lot more lift than its cousins, and really uses the wave's energy to keep your eFoil surfboard moving along even as you kill the power and coast.
These are some of our favorites with what they can do on the water and how responsive and agile this makes your eFoil.
Race Wings
Similar to the Flyer Wing, these Race Wings live up to their name. More scaled down for high performance, these wings totally diminish the drag of your Fliteboard. At 700 cm and completely flat, you can reach speeds over 35 mph/55 kph!
They require a little more pressure to turn, but the naval engineering here has come through to create a high velocity ride that you won't forget.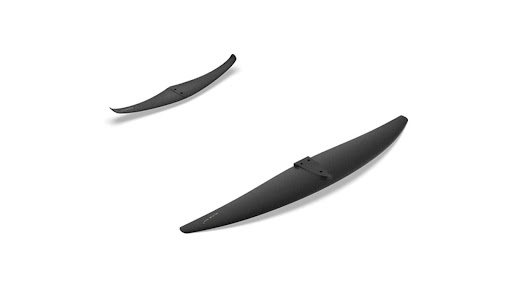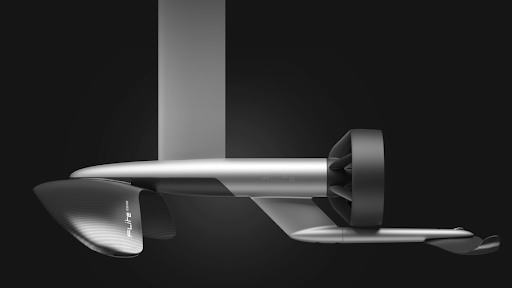 The Best Fins For Your Fliteboard
While the kind of eFoil can do a lot, your fins and stabilizers help curate and create your ultimate ride. Customize and build out your eFoil experience with rad wings to keep you shredding and eFoiling in a variety of ways.
Come down to the shop to check out the wings, and we'll see you on the water, fam.